Atlanta Nightclubs
Atlanta's nightlife is rich. From Dance Clubs to Comedy Clubs to After Hours Clubs. See our comprehensive list of Atlanta Nightclubs below.
Dance Clubs
Live Music Clubs
Comedy Clubs
After Hours Clubs
Tucked away in the Kenny's Alley section of Underground Atlanta, the Masquerade is Downtown Atlanta's most revered music venue. Over the last 30 years, the club has set the stage for a variety of musical performances, ranging from punk, hardcore, hip-hop, and heavy-metal shows to goth/industrial, el... |
more...
The tiny, shacklike entrance reveals an eclectic and loyal late-night crowd. Music at this underground clubber's club ranges from hip-hop and Brit-pop to downtempo and rare grooves. The dim basement space feels like the most happenin' speakeasy in town. |
more...
Beep Beep Gallery's Mark Basehore and James McConnell joined forces with two Brooklynites to open this gastropub. The back patio is an excellent place to hang out, if you can elbow your way through the crowded bar area and find a table. Regular DJ nights and dinner specials, including $2 tacos, tequ... |
more...
Floor to ceiling renovations! With live music from the likes of Zack Brown, Butch Walker, Blackberry Smoke, and John Mayer plus past performances from legends like David Bowie, one could make a strong argument that Smith's is the best small-venue music room in Atlanta.  Open Mic, Comedy, Trivia and ... |
more...
This mega-nightclub feels kind of like a resort, with several indoor and outdoor environments, including a pool area (swimming, not billiards). A great spot for dancing, chilling, or the chance celebrity sighting. |
more...
Cheap beer, pool tables, and fried food are the pillars of this dingy Midtown strip mall dive. Conveniently located next to Landmark Midtown, this is the perfect place to throw back a few after catching a flick on a Friday night. |
more...
This cave-like underground bar is located below Pizzeria Vesuvius. A wide flight of stairs ushers you into a moderate-size venue that features live music and DJs. |
more...
The Sound Table is as much a dance club as it is a restaurant. It's a showplace for some of the best DJs around, both in the downstairs dining room and next door at Space 2. |
more...
Popular Atlanta institution for serious slacking, burger eating, and drinking. Home to the Laughing Skull Lounge comedy club. |
more...
Night Clubs
Strip Clubs
Fine dining restaurant raising the bar/pole on adult entertainment. |
more...
If you haven't witnessed Blondie, the city's most well-embraced stripper (she's appeared in the city's marketing material, for Christ's sake), crushing a beer can between her breasts, then you're not an Atlantan. The oldest strip club in Atlanta, located in the basement of the Clermont Motor Hotel, ... |
more...
Foxy Lady Lounge is an adult entertainment club located in East Atlanta. |
more...
<p>An adult night club located in Decatur.</p> |
more...
There are strip clubs, and then there are Atlanta strip clubs. The Pink Pony sits atop an extended list of adult emporiums for the city, but it's the sheer size that topples the competition. Don't shy away from the buffet either; it's a real staple for the club's overall charm. Whether you're flying... |
more...
All-male, all-nude strip club. Mostly gay clientele. No bachelor or bachelorette parties.
"Clients must remain dressed at all times while inside the club" – swingingrichards.com
|
more...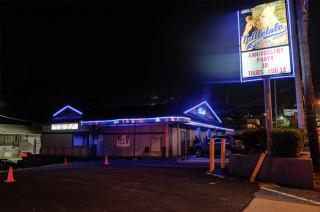 Name-checked by Mötley Crüe, this venerable strip club just keeps shakin' its thang. |
more...
The city's top high-end strip club stresses the "gentleman" part of "gentleman's club" more than most local clubs. It's handsomely appointed and stocked with attractive dancers, as you'd expect, and also features Alluvia, a fine-dining restaurant that allows you to enjoy pan-seared salmon while admi... |
more...
Swinger's Clubs
Atlanta Nightclubs in History
What once was ground zero for the dance-till-dawn queer crowd was Atlanta's party melting pot before it closed in 2004. Charlie Brown's X-Rated Cabaret was the terror of tourists and reluctant frat boys, while the downstairs dance pit is doubtlessly pumping. This was one of the legendary Atlanta clu... |
more...
Richard's is an Atlanta club that was big in the 1970s. Iggy and the Stooges (forerunner to Iggy Pop) played a 1973 show at this Midtown club that people were still talking about 10 years lager; Elton John showed up in a bunny suit and the Igster stage-dove through a tabletop. Also memorable were Ne... |
more...
---
Atlanta Nightclubs - Dance Clubs, Comedy Clubs, Live Music