6 rising Atlanta music MVPs for 2017
J.I.D, Jade Poppyfield, Russell Gunn, Charolastra and more set the stage for the coming year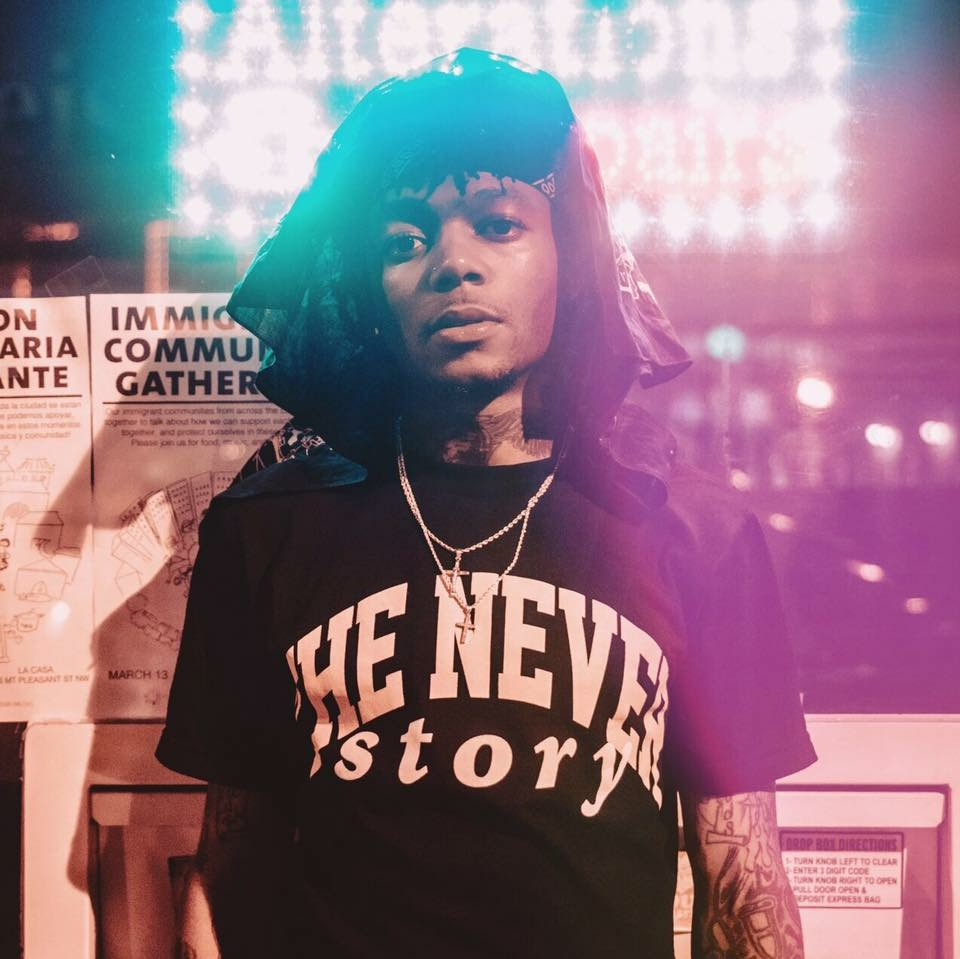 Those who knew J.I.D before he signed with J. Cole's Dreamville label shouldn't be surprised to see how far he's come since releasing 2015's DiCaprio EP. The East Atlanta-raised lyricist, born Destin Route, was a fixture at Smith's Olde Bar, the Drunken Unicorn and the old Masquerade, usually as an opener for fellow Spillage Village crew members EarthGang. Like he claims to go at Cole and other Dreamville rapper's necks, he was stealing the show with his mic-cutting vocal tones and spastic movements that he's been known for since he was a kid. His grandmother called him "jittery," which inspired his stage name.
Released in March, J.I.D's debut album, The Never Story, has drawn comparisons to mixtape-era Kendrick Lamar, which is almost fair. J.I.D hails from the same East Atlanta stomping ground that gave rise to Gucci Mane, OJ Da Juiceman and Future, and to his credit, he has stories of coming up fighting the lure of the streets. He'll also deliver sharp bars with funny hooks like he does in the song "Underwear:" "So if it's an issue, let's address it like a salad/Come on, let us/Burger wanna beef with a king/Come on checkers, check us, chickity check yourself." Another example of J.I.D's ability to meld the gritty with the ridiculous comes when he openly admits to loving drugs on "Ed, Edd and Eddy" which borrows a sample from A Tribe Called Quest's "Scenario," and is named after the Cartoon Network show.
New listeners: Dive into older tracks he made alongside notable acts such as "Mourning Star" with 6lack, India Shawn, or "W4R" Ft. OG Maco & Alkebulan. Catch him at the One MusicFest in September when he shares the bill with Jill Scott, Thundercat, Tank and tha Bangas and more. Maurice Garland


No value assignedPress play on Jade Poppyfield's "Roses" video and themes of vulnerability, femininity and loss at the hands of external forces bleed into each other with David Lynchian mood and tension. "Most of the songs that I write are kind of dancing around these subjects told from the perspective of another person, and I kind of learned that through Kate Bush," says Meghan Dowlen, the singer and pop provocateur behind the project. "It's hard to talk about. It's easier to perform the songs and leave the interpretation up to others. I want people to have their own experiences.?۝
Jade Poppyfield's dark synth pop songs hang in a balance of psychedelic flourishes, layered together using software such as Ableton and Reason, composed using Pro Tools, then stripped down for a one-woman live delivery. "It's pretty much impossible for me to recreate the songs live by myself," she says. "I need to simplify them for the stage.?۝
Dowlen is a master of crafting a deep, dark atmosphere through tricks of light, shadow and aural abstraction during her shows. She takes the stage armed with a microphone, a sampler, some effects pedals and waves of noisy texture delivered karaoke style.
She adopted the moniker Jade Poppyfield to suit a hodgepodge Halloween costume she created as a teenager growing up on the outskirts of Macon, Georgia. It's stuck with her since the arrival of her 2009 album, Kavindra.


Over the last decade, she has home recorded and self-released a dozen albums. Her upcoming full-length, Post Madonna, is her second proper studio recording (on the heels of 2015's Orchid Twilight), now in the final stages of production with C. Drew Haddon of Warning Light mastering the tracks. In the meantime, Dowlen is moonlighting as the new bass player for local drag-punk outfit Material Girls. Chad Radford
No value assigned
Born in Chicago, raised in East St. Louis, Illinois, 45-year-old trumpeter, composer, bandleader and two-time GRAMMY nominee Russell Gunn is one of Atlanta's most visible and accomplished jazz musicians. His 20-piece Krunk Jazz Orkestra recently completed a three-month residency at St James Live! in South Fulton. "The Krunk Jazz Orkestra is a twist on the traditional Jazz big band," Russell writes in an email from London, in the midst of a European tour with the Blackbyrds. "We play a funk/jazz style with a distinctly Atlanta sensibility and vibration.?۝
The KJO features a posse of Atlanta heavyweights including Delbert Felix (bass), Darren English (trumpet), Brian Hogans (alto saxophone) and Dionne Farris (vocals). Most compositions played by the band are Russell's with arrangements by trombonist and Kennesaw State University jazz band director Wes Funderburk. In August, the KJO is scheduled to make its first studio recording.
Gunn started playing trumpet at the age of 10. Encouraged by a high school band director in East St. Louis, he vigorously pursued his muse, which paid off in the form of a full scholarship to Jackson State University in Mississippi. After a chance encounter with saxophonist Oliver Lake led to a gig in New York, Gunn became enmeshed in the jazz scene. He performed with Wynton Marsalis and the Lincoln Center Jazz Orchestra, playing third trumpet on the Pulitzer prize-winning recording of Blood on the Fields.
After moving to Atlanta in '99, his first major label album, Ethnomusicology Vol. 1 (Atlantic) , was nominated for a GRAMMY in 2000. In 2007, he released Russell Gunn Plays Miles, which was widely praised for its fusion-era style mixing funky pop and hard bop.
Last year saw the release of The Sirius Mystery, which combines jazz, African drumming, dubstep, hip-hop and more into a four-part suite inspired by the mythology of the Dogon Tribe of Mali. As a player, composer and visionary leader of groups large and small, Gunn is an artist of the highest caliber in the prime of his career.
"The music of the KJO represents my philosophy that all music in the pan African diaspora are interconnected and can exist simultaneously on one bandstand," Gunn says. "As was my mission when I started my Ethnomusicology series of recordings, to incorporate the entire diaspora into one entity. The Royal Krunk Jazz Orkestra is that entity." Doug DeLoach
No value assignedSinger and guitarist Rachel Pagillo and drummer Tyler Walters started playing together in Glare a few years ago. However the group found renewed energy in September of 2016 when Pagillo quit her job doing on-set costuming in the film industry. "Music is the only creative thing I'm good and passionate about," she says. "I feel like my self-worth is validated when I'm playing music. I thought working in the film industry would be a creative endeavor, but part of me was dying. All I wanted to do was get back into playing music.?۝
In April, the group released "Cult Of Culture,?۝ a rhythmic and aggressive post-punk cut swimming in a squalid wash of sound punctuated by languid drums and fiery sonic textures. Longtime bass player Chris Alley was recently replaced by Charlotte, North Carolina transplant Nick Goode (ex-Brain Flannel).
Glare's self-titled six-song cassette EP arrives July 26, when the group plays a release party at Eyedrum with Gazm from Montreal and local rockers Drool. Chad Radford
No value assigned
Charolastra is the brainchild of electronic music producer Peter Roglin. The name Spanish for Astral Cowboy is taken from a club scene that Roglin got a kick out of in director Alfonso Cuar?_n's 2001 coming-of-age film Y Tu Mam?? Tambi̩n. "The club had all of these ridiculous rules if you wanted to be part of it," Roglin says. "You have to get high every day, don't sleep with your homie's girlfriend, that sort of thing.?۝
The project took shape as an offshoot of Roglin's growing fascination with sample-based footwork, a subgenre of electronic music blending drum and bass and rap music production. But the 11 instrumental songs that appear on Charolasta's 2017 cassette, titled God Help Us, take on an expansive and colorful hue that transcends classification by any simple means. Through songs such as "Top Of The World," "Microdream" and "Is Everything As It Seems," Roglin, along with production cohorts Anthony Nolan and Tito Mazzetta, mixed and mastered a collection of sprawling post-ambient musical excursions that weave in and out of trip hop, hip-hop, jazz and post-rock terrain.
As the finished album took shape, recreating the music in a live setting was the next logical step. After watching likeminded locals Jeremi Johnson of 10th Letter and Saira Raza reinterpret their respective brands of electronic and experimental soundscapes with large ensembles, Roglin and Nolan stripped down the album's compositions to make room for live instruments.
"It was an ordeal trying to work it out for the live setting," Roglin says. "Anthony is real detail oriented, and he helped me break down every sound on a granular level, so I had each individual track laid out in succession. Then we started removing different elements and making room for the live band.?۝
On stage, Roglin cues up "different scenes" on the controller, mostly the original beats and minimal synth parts to form a skeleton of each track that gives the musicians a foundation upon which to build. The band, which features guitarist Speros Kokenes, bass player Alex Pound, saxophone player Marquinn Mason and drummer Dylan Banks, fills in the rest of the gaps. The results are a smooth and unconventional concoction of omnipresent beats, harmonic tones and classic '90s intelligent dance music soundscapes carried to heady new highs. CR
No value assigned
Chris Childs (piano) and Ben Shirley (cello) of Faun and A Pan Flute join with Carolyn Johnston (English Horn) to form the Chris Childs Trio: a group solely created to perform the 30-minute single-movement piece composed by Childs, titled If I Were a Little Boy, I'd Be a Girl. "I bought a piano at the beginning of 2016," says Childs. "I spent a couple months scratching out templates, phrases, chord progressions, esoteric concepts, building a sort of notebook of ideas I could draw from as the creative process continued.?۝
By the time Childs' other band Hello Ocho began a month-long tour later that year, he had written the first few minutes of the piece. He nomadically ventured from piano to piano while out on the road, making posts on Facebook asking if anyone had a piano he could use in each city, occasionally finding time to sit down and tap into the mindset of the piece.
Johnston's English Horn parts in the performance were originally written for clarinet, but rewritten as she solidified her place in the trio. And while Childs remains the sole composer of the music, he stays dedicated to a collectivist approach when employing classical music in a modern context. "Aside from my respect, love and adoration for music from the elder eras, the traditions and stuffiness of classical music really turns me off," Childs says. "I try to put the music in environments that feel embracing and inclusive." Aja Arnold
The Chris Childs Trio will be playing at the Eyedrum Art & Music Gallery with Quinn Masonry & Friends and Mick Mayer on Thurs., June 29, at 8 p.m.