Bitter's tender aggression
Latinx queer punk band takes a stand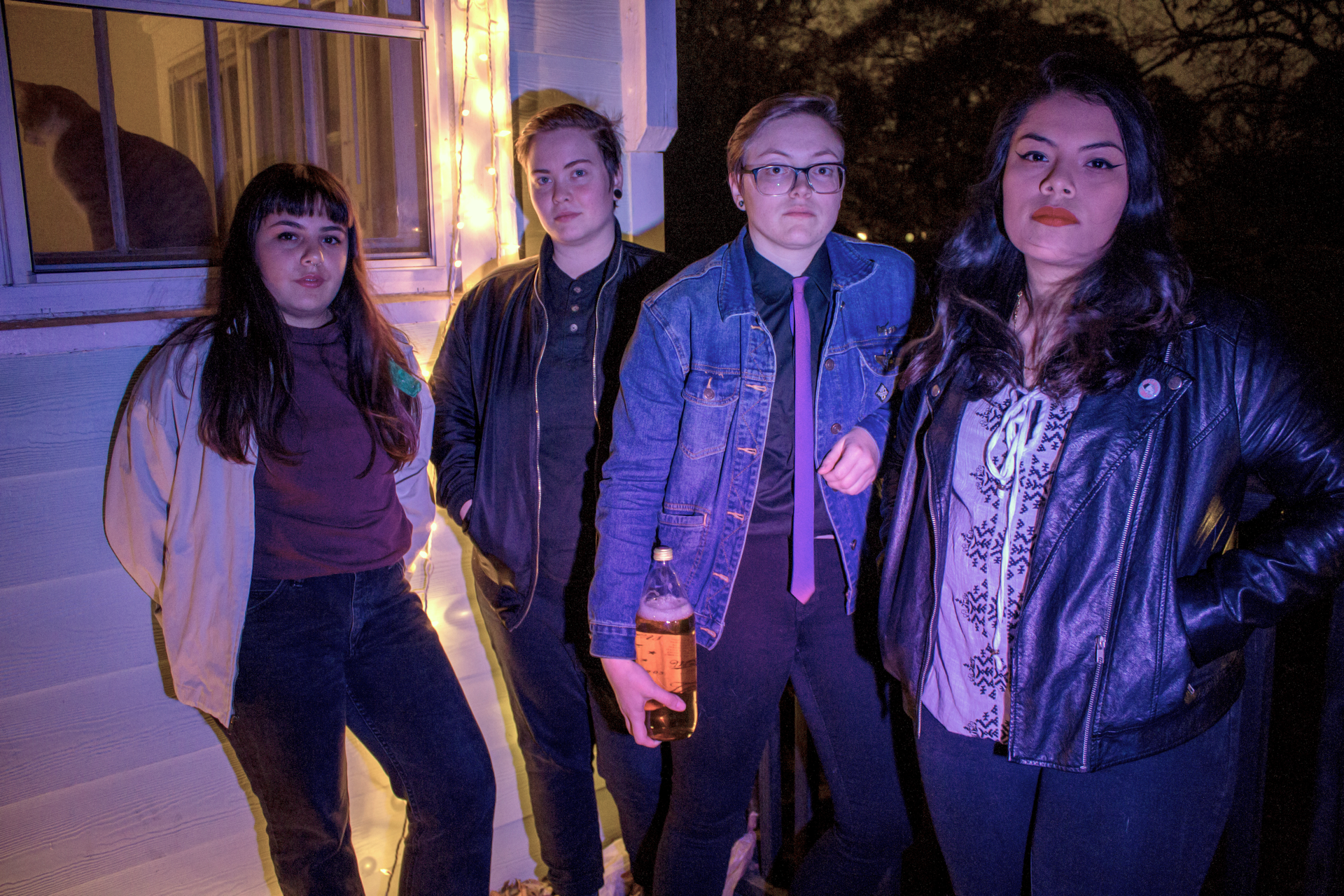 The members of Bitter met in typical Atlanta music scene fashion. Maritza Nunez (vocals, guitar), Chava Flax (guitar), Camila Izaguirre (bass) and Zo Chapman (drums) played in separate bands at a 2016 house show on Pryor Street. Flax's wallet went missing. Nunez found and returned it forming an instant connection.
Since then, Bitter has been on a mission to normalize a queer, Latinx influence within the local punk scene. This raises an ideal of finding solidarity in humanity, opening a dialogue instead of cutting each other off. In an intensifying time of call-out culture and the exhausting rabbit holes of debacle that are Facebook comment feeds, Bitter is radical and refreshing. "It goes back to not necessarily saying something political, but bringing it back to human-to-human level," says Flax.
Self-released in February, Bitter's eponymous debut is filled with riffs and upbeat bass and drums highlighting Nunez's emotionally quenching vocals releasing the pesky feelings that make humanity so bitter in the first place. Each song is charged with love, pain and angst, but the final number "El Dolor," written in Spanish, is the pinnacle of the album. While most of the lyrics were written during Nunez's adolescence, "El Dolor" ("The Pain?۝) was written at the age of 21.
"It's about letting go of people that keep spitting in your face," says Nunez. "I focus on emotions in music because, from my background, there isn't time to feel pain. It's about moving through difficult situations. I come from a religious background, raised by a single mother. We were never emotional, trying to be strong and make it to the next day.?۝
Bitter revels in emotion, evoking the common ground of human nature to bridge gaps of difference. Their music can resonate with LGBTQ and Latin communities, but still appeal to members of Flax's parents' Christian church in Memphis.
"There are church members back home that listen to our band and one of their favorite songs is ???El Dolor,'" says Flax. "Not one of them speaks Spanish, they're not pro-immigrant and say racist stuff. You can hear the emotion, you can feel it. It's a commonality between all people.?۝
Nunez and Izaguirre come from Latin backgrounds and Flax and Chapman are gender-nonconforming. While they could operate in more aggressive political ways, Bitter remains restrained. "I fight for celebrating brown girls and giving people of color a platform," explains Nunez. "To inspire people from certain backgrounds to make music and feel they can take part in a movement. They don't have to be extremely political, it could just be the space they take. That's a big deal, to continue representing people of color, in this tense time where people of color are told ???stop talking' or ???stop existing freely.'?۝
Bitter uses subtle energy to open a dialogue in a climate that's rife with talks of immigration bans and disconcerting uncertainty. "It's important for people who have experienced marginalization like us to see us and feel they are represented and can create, too," adds Izaguirre.
The album is personal rather than overtly political, as the band confronts the Atlanta punk music scene where its queer, Latinx voice meets indifference. It's a matter of cultivating awareness through basic human commonalities of emotion and music.
"It's frustrating, but I think it's also cool," says Nunez, expanding on people's reactions after hearing them play. "It's cool that someone that was once ignorant is now not. Hopefully, they're aware and can look up other artists and sing in Spanish. It's like opening a new world for them.?۝